If this event requires registration, fill out the information below and click on Complete Registration at the bottom of the page to register for this event.
Arts Enrichment Book Club 2-3 Grade: MoMA Art!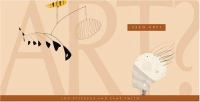 Event Type: Book Discussion Group
Age Group(s): Kids (5-11), Elementary School (Grades K-5)
Date: 9/11/2017
Start Time: 3:30 PM
End Time: 4:45 PM


Description:

Read the book; do a related arts project! This month we'll briefly discuss Seen Art? by Jon Scieszka and Lane Smith, in which a boy looking for his friend Art is led to and through the Museum of Modern Art. Then an artist from MOCHA, Museum of Children's Arts, will lead an art workshop on one of the featured modern artists.

Library: Danville Library
Registration Ends: 9/10/2017 at 9:00 PM


Other Information:

For students in 2nd and 3rd grade. Register online at ccclib.org or by phone (925) 314-3750 beginning June 8.
Sponsored by the Danville Library Endowment.

Contact: Ann
Contact Number: (925) 314-3750
Status: Waiting List

Please Note
Attendee must be between the grades of 2 and 3.

---
We're sorry. The registration deadline was 9/10/2017 at 9:00 PM.